20 Nov

Afraid of Not Being Good Enough?

Afraid of not being good enough?

Of course you are.

Isn't everybody?

The fear that sends us scurrying after the next 'shiny object'.

Embarking on the next training course that will move us from where we are.

To where we wish to be.

There's people a plenty that will offer you the 'keys to the castle'.

Well-informed?

An expert?

Relevant to what's missing in your career, business or life?

Here's the thing.

It will cost money for you to find out.

In a world where information has never been so extensively available, these 'experts' are charging you for information.

That is freely available.

If I instruct someone to do the work, I expect to pay.

I don't expect to pay for the information.

And this applies equally to my own business.  www.andsothestorybegan.co.uk

Personal brand.  Creating awareness through story.

I'm happy to share everything I know.

For free.

Everything I know.  Is already 'out there.'

From other sources.

However, if you want me to do the work, to write the story, to create your Personal Brand.

There's a cost.

Estate agency seems to operate quite differently.

Want to know how to be better at winning more instructions? How to close the sale?  How to automate your email campaign? How to overcome objections?

How to scale the business? How to… anything?

Attend the seminar.  Subscribe to membership.  Buy the eBook.  Where you will be given these 'nuggets of gold'.

That's information, right?  So, it's free?

Unfortunately, not.

A little teaser, here.  A taster, there.  But if you want the 'nuggets', they're going to need your credit card details.

These people are selling information.  Quite possibly information that you don't need.

And won't use.

They're hyping the event to attract those that are afraid of not being good enough.

Or, those just too lazy to find out the information themselves.
And, in the process, taking advantage of those agents that aren't quite so forward-thinking.
Learning is as much a process of self-discovery and choices, as it is absorbing and applying information.
Choices that may be to set the bar low.  To manipulate and to confuse. The quick fix.  Tips and tricks.
Or, a choice to find ways to produce valuable, rare and meaningful work.
That not only contributes to the community that you serve, but improves on your own skills.
The choice to pay.  To be spoon-fed the information.
Or, to discover for yourself what is meaningful.  From a group of people that have your best interests at heart.
In the estate agency sector, there are those that give, without expecting in return.
And those that take. What they can, when they can.
The difficulty, as always. is in deciding who are the cowboys and who are the good-guys.
Here's a few things that discern the good from the bad.
Those who rush you to make a decision.
"This offer is only available until…"  "We only have two places left, so now….."
Those who shout the loudest.
Their enthusiasm might work on a market stall, but the bluff and bluster often hides a serious lack of useful information.
Those that proffer endless endorsement from other successful agents. 
It's manipulation.  Pure and simple. My answer is always No.
Those that have a track record of congruent thought.
"I said this last year. And the year before. And the year before that. Here it is again. So, this is what I believe."
Those who exude a calm demeanour. Inclined more to interact than to rant.
The Stephen Brown's of this world.  Rather than a few more visible names from overseas.
Those that give their time and money, in pursuit of a better industry. 
Like the ever generous Christopher Watkin.
Afraid of not being good enough?
Afraid of failing?
Do it anyway.  It's good for you.
At least you can tell everyone why and how you failed.
The mistakes you made. That led you to where you are now.
Attention from vendors is becoming increasingly hard to gain.
They've heard all the stats and boastful messages that are pumped out incessantly.
Your story of overcoming struggles and persistence will resonate.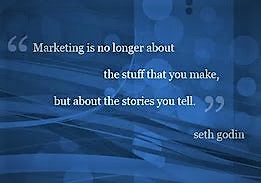 Don't take my word for it.
Don't take anyone's word.
"Take the risk of thinking for yourself. Much more happiness, truth, beauty and wisdom will come to you that way."  – Christopher Hitchens.
I'm happy to share everything I know.  For free.
Encouraging you to be different, instead of better.
Check out the web site. www.andsothestorybegan.co.uk 
Or call to chat.  mob: 07875 141436
chris@andsothestorybegan.co.uk
Happy to help.
And thanks for reading.
Chris.